Aurora remembers 9/11: 'Everything changed that day'
Story and photos by Erika Wurst / for Chronicle Media —

September 15, 2017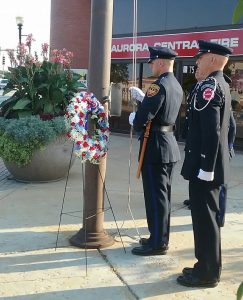 Bagpipes played, bells tolled, and flags proudly waved outside the Aurora Fire Department on the morning of Sept. 11 as a large crowd gathered to remember the nearly 3,000 lives lost 16 years ago.
First responders were surrounded by children in plastic firefighters caps, city officials and residents who spent 20 minutes on a warm Monday morning to pay their respects.
"As every year passes, the events of this morning from 16 years ago take on a more historical feel, and I imagine it's a normal progression in life," said Aurora Fire Chief Gary Krienitz. "Many of us though still feel the emotions of that day."
Krienitz and Police Chief Kristen Ziman recalled what they were doing that day–a day when, as first responders, "everything changed for us" Krienitz said.
"We cannot change what happened that fateful day, but we can pause to remember those lives lost," Ziman told the crowd.
Next to a flag pole, a red, white and blue wreath was laid and Krienitz tolled a silver bell three times. The sound of bagpipes rang through the air, to the tune of Amazing Grace, as first responders stood at attention.
"May those brave men and women rest in peace," Mayor Richard Irvin said into his mic. "May God bless their souls and may God bless America."
—- Aurora remembers 9/11: 'Everything changed that day'  —-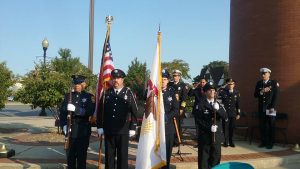 —- Aurora remembers 9/11: 'Everything changed that day'  —-