Staying the course and the true meaning of Valentine's Day
By Lynne Conner for Chronicle Media —

February 14, 2018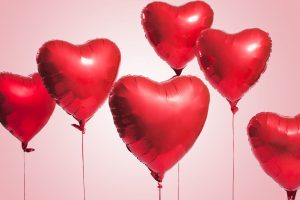 Strolling through store displays of heart-shaped, red cellophane-wrapped Valentine's Day candy, oversized stuffed teddy bears and lacy barely-there lingerie always amuses me.
The commercial part of Valentine's Day:  candy, flowers, cards and jewelry is only a small piece of what comprises the puzzle of romance, love and marriage.  At face value, popular music can also give us a skewed idea of true love, but take a second look and you might be surprised.
I was listening to some music on my iPod recently, when an Eagles song started to play.  "The Long Run" includes the lines, "Who can go the distance?  We'll find out in the long run,  We're scared, but we ain't shakin', kinda bent but we ain't breakin',  and We can handle some resistance if our love is a strong one."
As the song played, I reached over to adjust the volume and caught sight of a simple gold ring on my right hand.
I had found it about three years ago as I was cleaning out my parents' home after my Mother's death.  I had never seen this ring before, but after taking a closer look, I saw an inscription on the inside that read "E to H June 18 18".  Instantly, I knew what the engraving meant.  The gold band was inscribed with the letters of my grandparents' first names, Eugene and Henrietta and their wedding date, June 18, 1918.
In addition to the fact that my grandfather's wedding band is almost 100 years old, wearing this heirloom piece makes me feel connected to generations of married couples who time and again have lived the lyrics of this song and committed to 'the long run'.
My grandfather, Eugene Ditzler was a widower and the town pharmacist in Davis, Ill. when he married my grandmother, Henrietta.
Grandpa had lost his first wife and was left with two young children to raise and business to run.  These were the days long before day care centers so family had to help family in times of need.  My Grandma, the younger sister of Grandpa's first wife, answered the call to help with the children.  In a short time, "Auntie" became a step-mother to her niece and nephew, and a few years later, a mother in her own right, when my Dad was born.
I suppose you could say that Grandpa and Grandma Ditzler's marriage was born out of convenience or a sense of duty; but the stack of 100 year old love letters I inherited proves otherwise.
Grandpa was quite the romantic, writing, "…there is nothing in this world that ever can compare to our true love and nothing can ever change mine toward you…as you are all the world to me, Dearest." (July 16, 1918)
During their 51 year marriage, Grandma and Grandpa lived through the Great Depression and leaned on each other while my Dad served in World War II.  Grandma worked in Grandpa's drug store, she saw him through the premature deaths of his older son and daughter and she was by his side when he died of cancer at the age of 91.
Grandpa, in turn, gave Grandma a family, a comfortable life and his unending love and devotion.  True to the song's lyrics, marriage is about being bent, but not breaking.
Tough times call for strong people with a steadfast commitment between them.  This is the theme of Dominick and Theresa Arbisi's marriage.  My mother's parents married in 1923; and Nana, who was only 19 years old, gained more than just a husband from the marriage.  Since Papa had been supporting his widowed mother and disabled sister, they both moved in with the newlyweds.
During their 64-year marriage, Nana worked as a bookkeeper in Papa's wholesale produce business, cared for his mother and sister, had three children and lost three children at birth.  Papa, an immigrant with only a second grade education, built a successful business out of nothing, provided for his family of seven and put my Mother and her siblings through college.  Papa's and Nana's marriage survived times of uncertainty without being shaken.
My parents, Robert and Theresa Ditzler, married later in life and relied on their shared faith and each other's strengths to navigate the journey.  In 1975, only 10 years into their marriage, my Dad underwent triple bypass heart surgery at the Mayo Clinic in Rochester, Minn.  Back then, coronary bypass surgery was a risky procedure that local doctors wouldn't attempt.  After the surgery, my Dad wasn't physically able to return to his assembly line job, so Mom started a business as a consultant dietician.
During my parents' 50-year marriage, roles were reversed as my Mom worked to support the family, while Dad became the at home parent.  They relied on their shared religious faith to handle and overcome Dad's second heart surgery in 1987.  They found joy in our family life:  camping trips, attending our music recitals and seeing my sister Cheryl and me both graduate from college and later receive master's degrees.
Dad relished being father-of-the-bride twice and dancing with each of his girls at their weddings.  Both Mom and Dad "camped out" overnight on the labor and delivery floor when my daughter Cara, their first grandchild, was born.  My parents truly 'handled the resistance' in their marriage with faith, grace and strength.  They set a sterling example of what marriage is all about; a legacy that I want for my marriage.
When my husband Patrick and I got married in 1999, it had been 10 and a half years since our first date.  In my journal entry after that date, I had written, "Let's face it, Patrick Conner is perfect for me," though I realized it back during college in 1989, it would take a while for both of us to see those words become reality.
After college, Patrick became an officer in the United States Navy, while I returned home to start my career.  We kept in touch mainly through letters and visits.  After Christmas in 1997, I took a trip to Rome with a group from church.  Patrick had managed to get leave from his ship, meet me in Rome and tour with our group.  The highlight of that trip came on New Year's Eve 1997, when he proposed to me at the Vatican.
During the early part of our engagement, while Patrick was still in the Navy, we relied on the brand new technology of email to communicate since his ship had only two cell phones and regular mail was very slow.  Like the twine bundled pen and ink love letters of my grandparents, our binder-bound page protected emails tell a modern love story framed by faith, devotion and hope.
Eighteen years and two kids later, Patrick and I have had much more joy than sorrow.  We have relied on our shared faith and each other's strength to 'handle the resistance' of illness, injury, job loss, surgeries and the death of my parents.  I can only hope we are showing our kids that love is more than flowers, candy and Valentines; it is perseverance, sacrifice and commitment
With apologies to Frank Sinatra, 'Love and Marriage' is more horse than carriage.  I think the Eagles got it right; love is about being scared but not shaking and bending, but not breaking.
As the third generation in a long line of marriages that 'handled the resistance', my fervent wish is to continue this narrative as an example for those to come.  Someday, after my time has passed, perhaps my grandchildren will read those emailed love letters from 1997 and they'll know the importance of staying the course.
— Staying the course and the true meaning of Valentine's Day  —-