Mark your calendars for summer festival season in the suburbs
Erika Wurst for Chronicle Media —

May 10, 2017
Whether you're looking for a quaint hometown fair or a weekend packed with headlining musical acts, the suburbs are chock-full of entertainment this festival season.
Organizers are working around the clock to make sure the rides are ready, the food is hot and the music is loud as they get ready to kick-off their annual events.
Naperville Ribfest organizers are celebrating 30 years of good food and good fun, and if you thought the festival had it all before, prepare for some new surprises this season.
Ribfest, which sees anywhere between 225,000 and 250,000 guests each year, will be home to a Nathan's Hot Dog Eating Contest qualifying event this summer.
The winner will get to compete at Coney Island over Fourth of July Weekend in the hot dog company's televised competition.
"It's a pretty big event and it's a very cool thing to have included this year," said Erin O'Donnell, Ribfest Marketing and Public Relations Director. "The winner is going have to get out of Illinois pretty fast to make it to New York for the big contest a
couple days later."
But, the winner will probably want to stick around Rib Fest at least a little bit for the music. Major national headlining act such as Toby Keith, The B-52s, The Wallflowers, Better than Ezra and Shinedown are slated
to play at Rib Fest, which runs from June 30 to July 3.
"Someone from London is flying in to see Shinedown," O'Donnell said. "This is a positive way to get people out to our little community. The city council and mayor do a fantastic job of keeping this a metropolitan city with a down-home feel, and our festival fits right into that theme."
Slated as "a party with a purpose", Ribfest, which charges entry admission, also raises money to support the prevention of child abuse and domestic violence.
The event has raised $15.5 million since its inception 30 years ago, O'Donnell said.
"With the 4,000 volunteers we need to pull this off, it's truly a community effort," she said. "We give the money right back to the community."
In Oswego, the village's PrairieFest is also closing in on three decades of annual entertainment. Now in its 29th year, the festival has grown leaps and bounds since it's inauguration.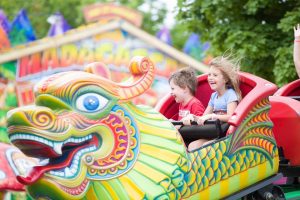 "It's been almost three decades, and in the time the community has grown," said Kristie Vest, Oswegoland Park District special events supervisor. "As the town has grown, so has the festival, but I don't think it's missing the spirit it started with 30 years ago."
On Father's Day, families can be found lining the streets for the parade in the same spots they've sat in for years. There's the festival's Prairie Winds Community Band concert still kicks-off the weekend, and the fishing derby still drums-up competition. Each are staples that make the festival what it is, Vest said.
That said, as the festival continues to grow, new events are added that exemplify the spirit of the community.
"This is a community-driven festival and we've made it a point to make sure we honor the traditions we love, but we're open to the ideas of what the community still wants to see," Vest said.
From a blood drive to on-site CPR classes, pet adoption events and a new adult pine wood derby, the events are each stemmed from the wants of the community.
"We want to be responsive to who we are as Oswegoland," Vest said.
This year, that includes bringing in bigger and better bands (like Sugar Ray), a circus, and the best food options to date.
But, if you're looking for a true kick-off to summer, Geneva Chamber of Commerce Communications Manager Laura Rush said Swedish Days is your ticket to festival bliss.
"It's the only six-day festival in the country," Rush boasted. "To have a festival that's 68 years-old and six days long is pretty impressive."
Swedish days kicks off on June 20 and runs through June 25.
It features all the festival staples, but includes a cultural twist.
"It's really important for us to keep the 'Swedish' in Swedish Days," she said.
For two days, Sweden Vast takes over the corner of South Fourth Street and State Streets and transforms the area into a Swedish destination. Sweden Vast features food, gifts, music and activities all inspired by the Swedish heritage.
"It's been a really nice addition," Rush said.
The festival is bringing back it's 5K run, which was a nice way to draw out-of-towners into the area for the fun, Rush pointed out.
"We call it a community festival, but part of our goal is to always introduce new people to our city," she said. "Through festivals we can showcase everything Geneva has to offer. I hear over and over again from people that they can't believe towns like ours still exist. We're quaint, friendly and make you want to smile. A
festival like Swedish Days is a great way to highlight everything we are."
If truly quaint is what you're looking for, Aurora's first annual Harry Potter Festival is where you should head.
There's are no big named bands or carnival rides, instead, little wizards will have a chance to see parts of downtown Aurora transformed in Hogwarts fashion.
Diagon Alley will be set up along Water Street Mall with vendors and crafting stations. Hogwarts Classes in Potions, Herbology, and Care of Magical Creatures will take place at venues along Downer Place and at Millennium Plaza off Stolp Avenue.
Children can ride the Hogwarts Express mini train attraction and dress as their favorite character in the costume parade.
The festival is organized by a volunteer committee sponsored by Culture Stock, a not-for-profit organization that provides free and affordable arts events and programs to the Aurora area community.
Since the festival's announcement, it has drawn the attraction of tens of thousands of Harry Potter fans hoping to flock to Aurora for the day.
According to festival organizers, several outside websites advertised the event as a city-wide celebration that is on par with visiting Universal's theme parks.
"We asked the initial website that published this information to remove the content or edit it to accurately represent the size and scope of our festival, but they refused to do so," organizers said. "These inaccurate articles drove tens of thousands of people to our Facebook page to RSVP."
The festival, which was planned for 1,000 people, was suddenly in over its head.
"We are working with the city and local organizations to expand the festival to 3,000 people and hopefully more," organizers said.
Because of the demand, tickets for admission to the event will be used.
"This will allow us to maintain a safe, fun environment for our small, local festival," organizers said.
Lucky for locals, tickets will not be available online or by mail, but for purchase in Aurora. Cost will be a $3 donation to Culture Stock, which can be used as a certificate toward book purchases at the store on the day of the event.
Ticket distribution dates and procedures will be announced as soon as possible at https://www.facebook.com/CityOfLumos/ or http://CityOfLumos.org.
"This is the first year of our festival, which is run entirely by volunteers working with a not-for-profit organization," organizers told fans. "Providing a two-day, city-wide celebration is not a matter of simply working harder or getting more businesses to support the festival; it requires additional street closures, trash facilities, bathrooms, police support, emergency services, and so much more in terms of logistics and expenses. A large, multi-day festival is our goal for 2018."
FESTIVAL GUIDES Geneva Swedish Days: http://www.genevachamber.com/swedish_days.php Naperville Ribfest: http://www.ribfest.net/ Oswego Prairie Fest: http://www.prairiefest.com/ Aurora Harry Potter Fest: http://CityOfLumos.org Batavia Windmill City Festival: http://windmillcityfest.org/ Geneva Arts Fair: http://www.genevachamber.com/geneva_art_fairs.php Yorkville Hometown Days: http://www.yorkville.il.us/459/Hometown-Days-Festival Sugar Grove Corn Boil: http://sugargrovecornboil.org/ Oswego Beats and Eats: http://www.oswegobeatsandeats.com/ Plano Smallville Superfest: http://smallvillesuperfest.com/ Lisle Eyes To The Sky Festival: http://www.eyestotheskies.org/
— Mark your calendars for summer festival season in the suburbs —