Storm wreaks havoc to tens of thousands in Central Illinois
Chronicle Media —

January 1, 2016
Tens of thousands of Central Illinois residents were without power for up to three days last week following a winter storm that featured high winds, and alternating between rain and ice on Dec. 28.
At the peak of the outages, about 50,000 people in the region were without power ­— including customers served by either Ameren Illinois or Corn Belt Energy.
"Ameren Illinois field crews and support staff have been actively engaged in restoration services following an intense line of storms that brought wind, rain and ice across the Ameren Illinois service territory early Sunday morning into Monday,"  Ameren posted on its web site Dec. 30.
"Ameren Illinois activated its Emergency Operations Center (EOC) and will continue to monitor the situation and deploy resources in affected areas as needed. Crews are working as quickly and safely as possible with nearly 500 resources deployed to restore power,"  the statement read.
situation and deploy resources in affected areas as needed," the statement read.
With wind speeds of up to 50 mph, the storm created havoc throughout the region resulting in trees and utility lines down and flooding was widespread, causing streets and whole neighborhoods and parks to close.
The National Weather Service issued a flood warning along the Illinois River for Peoria, Tazewell and Woodford counties as waters surpassed the flood stage of 18 feet.
The outage area stretched from Bloomington in McLean County and Pekin area in Tazewell up through most of Peoria County and northwest into Stark and Knox counties.
More than 1,000 Corn Belt Energy customers, in McLean, Tazewell and Woodford counties, were without power into late evening Dec.30.
On Dec. 29, emergency crews rescued two people from the Mackinaw River, which was flooded over, near Lexington.  The Hudson Fire Department Dive Team brought the two men, who had been canoeing when their vessel capsized, to safety after calls came in to the Lexington Fire Department and Hudson Fire Department around 3 p.m., according to reports.
Authorities say the two men had been in the water about two hours. They were taken to Advocate BroMenn Medical Center, Normal for treatment.
The power outage reached into Pontiac forcing play at the 85th annual Pontiac Holiday Basketball Tournament on Monday to be suspended midgame.  Bloomington High School was playing Bloom Township when the game was called early in the second quarter.
Gov. Bruce Rauner issued a state disaster proclamation for eight southwestern counties to help affected communities respond and recover from flooding caused by the heavy rains.  That proclamation included Calhoun, Clinton, Jackson, Jersey, Madison, Monroe, Randolph and St. Clair.
"These counties have significant issues related to flooding that is already occurring or could occur over the next several days," Rauner said. "We are committed to help local responders in these and other impacted counties ensure the safety of people affected by this unusual December flooding."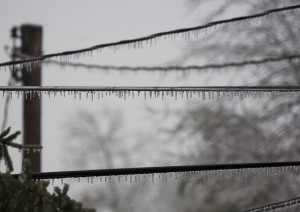 According to the NWS, rainfall between Dec.23-28 averaged approximately seven inches in the declared counties.
The State Emergency Operations Center (SEOC) in Springfield was activated Dec. 28 to ensure state personnel and equipment could be deployed quickly to support local emergency responders.
Resources provided to date include nearly 400,000 sandbags, 160 rolls of plastic, 1,200 tons of sand, and numerous pumps and generators to support flood-fighting efforts in several counties.
Related content: Metro East region assessing massive flood damage
— Storm wreaks havoc to tens of thousands in Central Illinois —