Welcome to Sockford
Jack McCarthy —

March 10, 2015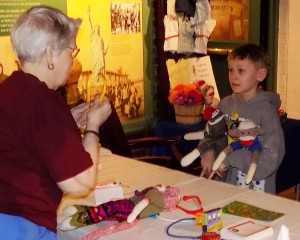 Midway celebrates city's famed Sock Monkey
There were no lines for treatment at Sockford General Hospital last Saturday.
Owners of Rockford's trademarked Sock Monkeys could step right up and have repairs made to their treasured stuffed toys, created from trademarked socks once made right here in Rockford.
Midway Village Museum was temporarily renamed Sockford, Ill. and turned the facility over to Sock Monkeys and their fans last weekend for its annual Sock Monkey Madness festival.
The event drew fans for a series of exhibits, commerce and even a hospital while many of the current —non-Sock Monkey — exhibits were decked out in yarn.
There were even opportunities for fans to make their own or purchase special attire to make their creations one-of-a-kind.
The simple dolls grew out of red-heeled brown socks once created by Rockford's Nelson Knitting Co. The company was awarded a patent in 1955.