Winnebago communities mark Memorial Day with somber ceremonies, parades
May 24, 2019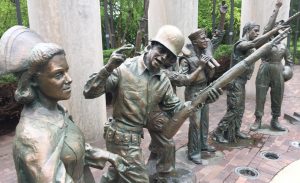 The observance of Memorial Day, which dates back to post-Civil War days, is both somber and celebratory.
Memorial Day, originally known as Decoration Day and observed on May 30, was switched by Congress in 1971 to the fourth Monday in May to create a three-day weekend holiday.
It's still a day of parades, speeches and remembrances of the nation's war dead. But it has also evolved into a day saluting all veterans as well as a perfect time for family gatherings and outdoor cookouts.
It typically falls at the end of the school year, so Memorial Day also serves as an unofficial kickoff to summer.
Here's a rundown of Rockford region parades and services:
WINNEBAGO COUNTY
Rockford—Veterans Memorial Hall and Museum & Winnebago County Veterans Association, Mon., May 27, Memorial Day Parade, Ceremony and Sinking of the Ship 8:30 a.m. to Noon, Parade starts at 9 a.m. and proceeds north on 7th St. to Charles Street,  Charles Street to State Street units will then travel west on State Street, the parade will continue west on State Street and turn north on Wyman Street, then proceed north to Beattie Park where the parade will end. Unit review and commentary will be in front of Veterans Memorial Hall.
This year's parade's Grand Marshal is Angie White and is in honor of all Gold Star Families and the sacrifice they made for our country. The Memorial Day program will begin at approximately 10:30 a.m., at Veterans Memorial Hall, 211 N. Main St. and will include comments from Winnebago County Veterans Association's Commander Nancy Clark, Rockford's third ward Alderman Chad Tuneberg, City of Rockford Mayor Thomas McNamara and Winnebago County Board Chairman Frank Haney.
The ceremony will conclude with a memorial dove release. Also, this year with a generous donation from ACE Hardware and VFW post's 342 and 5149 there will be two hundred flags placed on the grounds of Veterans Memorial Hall that will be given to those in attendance to decorate a Veterans Grave after the ceremony.
The Memorial Day activities will continue with the annual riverside Sinking of the Ship ceremony including a wreath presentation, a 21-gun salute by the Rockford Detachment Marine Corp League.  The sinking of the ship is presented by the Navy Club Ship #1 on the Rock River behind the old Downtown Rockford Public Library site immediately following Veterans Memorial Hall's Memorial Day Ceremony.
Loves Park—Young at Heart Parade, Sat., May 25, 9 a.m., along N. Second Street; Young at Heart Fireworks Show, at dusk, fireworks shot off from the parking lot of Sand Park Pool; The Young at Heart Festival will not be held this year.  Ski Broncs 2019 Season Kick-off Water Skiing Show; 7 p.m. at Shorewood Park. 
Winnebago–Memorial Day Mass at Calvary Catholic Cemetery, 8616 W. State Road, Mon., May 27, 9 a.m., outdoors weather permitting, or indoors at the mausoleum.
Rockton—American Legion Memorial Day Parade, Mon., May 27, 9 a.m., begins at the south side of the Blackhawk Bridge where a wreath will be placed in the river in memory veterans, parade, proceeds through downtown Rockton to the downtown cemetery.  
Pecatonica—2019 is the year of Pecatonica's Sesquicentennial (150 years).  Highlights for Memorial Day weekend:  May 24-26 – Carnival rides and games, Midway food, camel and pony rides; May 25 – 13 hours of local bands (11:00 AM Ross Kendall & Brandon Burfield; 1:30 p.m., LetSinger; 4:00 p.m. All Star Jam Band; 8 p.m. The Stevee Nix), May 26 – Fireworks at dusk; May 27 – Memorial Day parade 2 p.m.  For more information, visit www.facebook.com/Pecatonica-Sesquicentennial
Durand—American Legion Gold Star Post 676 and the American Legion Auxiliary are sponsoring a Memorial Day Program at the American Legion Hall, 211 State St. in Durand, Sat., May 25 at 7:30 pm.  Speaker is Terry Dyer, docent at Veterans Memorial Hall in Rockford.  Candlelight service honoring area veterans after the speaker.  Refreshments following.
BOONE COUNTY
Belvidere—Memorial Day Parade, Mon., May 27, line up 9 a.m. for 9:30 step-off, Line up in parking lot #5—between Whitney Blvd and Main St., 9:30; VFW, 1310 W. Lincoln Ave., Hot Dogs and Brats provided 5 p.m. open to the public; Belvidere American Legion Post 77, 900 W. Chrysler Drive, Luncheon, Call 815-547-7216 for more information. 
OGLE COUNTY
Byron—50th Annual Memorial Day Ceremony & Parade, Mon., May 27, 10:30 a.m. begins in front of Neighbors Rehabilitation Center, with principal speaker, Bob Ross, a World War II veteran, a procession will follow the ceremony to downtown Byron where a parade will take place, children are welcomed to ride their bikes in the parade, there will be a gun salute at the closing ceremony following the parade.
A luncheon will be held on Mon., May 27, following the parade closing ceremony at the newly remodeled Byron Theater which was built in the 1940s.  The luncheon is sponsored American Legion Post 209.
Oregon—A wreath of remembrance will be placed in the courthouse yard, Mon., May 27 at 9 a.m. with a Memorial Day parade following which begins at Jefferson St. and proceeds north on Third Street to the Riverview Cemetery. 
STEPHENSON COUNTY 
Freeport—Memorial Day Parade sponsored by VietNow, Mon., May 27 10 a.m., parade route runs through downtown Freeport; Stephenson County Antique Engine Club 2954 South Walnut Road, hosting an ice cream social, Sun., May 26 & Mon., May 27, 11 a.m. to 4 p.m.