Eureka state champs in volleyball
Chronicle Media —

March 17, 2018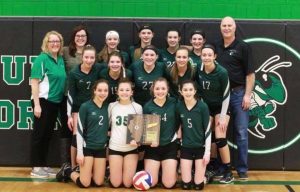 Eureka Middle School capped off a fantastic season by winning the class 3A Illinois Elementary School Association state title over the weekend March 16-17.
The Hornets advanced on Friday after getting past Wilmington in the first round.
They went on to defeat Princeville in the semifinals on Saturday before beating Tolono Unity in the championship game later that day.
They finished the season undefeated with a record of 26-0. (Photo courtesy of School District 140)
—- Eureka state champs in volleyball —