26 Illinois colleges on Forbes list of best deals
ILLINOIS NEWS NETWORK —

July 19, 2016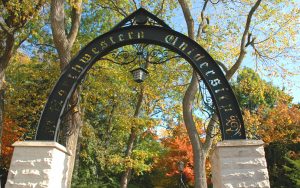 The sponsors of a national ranking of U.S. colleges don't have an explanation for why so many Illinois schools are on the list of schools that offer the best academic bang for the buck.
The list, compiled with Forbes and the Center for College Affordability and Productivity, or CCAP, used data from 1,400 colleges and universities to compile a list of 660 schools.
Illinois had 26 schools on that list, with Northwestern University (15) and the University of Chicago (20) making the Top 20.
Joshua Distel, administrative director for the college affordability center, said the list is different than other rankings in that the surveyors go to great lengths to measure post-graduate success by using tools to measure graduate career success.
"The other rankings are concerned a lot with the inputs, like ACT and SAT scores," he said. "We consider that, too, but ours differs in that we look more at the output, what happens to those students when they leave the school."
The list uses the Forbes' American Leaders List and other measures of post-graduate success such as student debt and satisfaction after the fact.
"How well a school's graduates have done is one of things that helps us determine the value of a school," Distel said. "The outcome is what people are concerned with. It makes sense to choose a school with successful graduates, and it's one of the things parents should be considering when helping their children choose a school."
Distel said he can't explain, in a state so struggling financially, why so many Illinois schools made the list. "Twenty-six is quite a few, actually, but I couldn't make a correlation as to why there are so many in Illinois."
It's the ninth year that CCAP has teamed with Forbes to create the rankings list.
Distel said his organization was founded to study the rising costs and diminishing returns of higher education, and offer solutions. In the past 40 years, according to Forbes, the cost of public higher education has risen 270 percent, and the cost of private higher education has gone up by 204 percent.
"It's an important topic that is very high on the American public's mind," he said.
— 26 Illinois colleges on Forbes list of best deals —