Ways to keep from overindulging this Halloween season
Advocate Health News —

October 30, 2019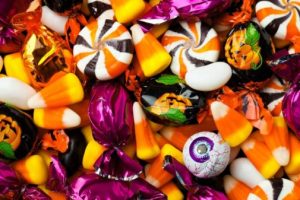 Halloween ranks high up on most peoples' list of favorite holidays — and for good reason. It's an opportunity to ignite the family's imagination with fun costumes, take in the crispness of fall and indulge in the time-honored tradition of trick-or-treating.
Of course, it's all fun and games until someone's had too much candy. Avoid the sugar crashes, feelings of nausea and the potential weight gain with these four practical tips this Halloween season, courtesy of Barbara Melendi, a registered dietitian nutritionist at Advocate Illinois Masonic Medical Center in Chicago.
Know what you really love. During Halloween, there always seems to be a plethora of candy options. One good thing to try is to challenge yourself or your kids to eat only the things that you really like, Melendi says. "Save the calories and treat yourself to your favorites. Be satisfied after eating just a couple pieces of that type of candy, as opposed to the options that you don't really like," she says.
Make swaps. Take a look at your everyday eating routine. Is there something you are used to treating yourself to on a regular basis? Whether it's the everyday latte, post-dinner dessert or glass of wine, skip the indulgences during the Halloween season. "This type of mindful eating ensures your sugar consumption is stable, not spiking, during this time of year," Melendi says.
Get your fill on healthy, nutritious foods first. This is an obvious one, but worthy of inclusion for the simple fact that nutrition plays an important role all throughout the year, not just on Halloween. Melendi says we should focus on getting our fill with fruits and vegetables before indulging in sweets. "These foods have carbs, but you're getting important nutrition that you don't get in a piece of candy," she adds.
Out of sight, out of mind. During a time of the year when sweets are so easily accessible, make a conscious effort to minimize how much candy you eat. A couple things you can do is have set portions of candy that you keep in the house or not overbuy candy in the first place. Melendi also recommends keeping candy hidden away, so that you have to make a conscious effort to retrieve it.
Make it less about the candy and more about the family time. Our brains love sugar, so it's natural to want it. One way to curb the sugar this year is to make Halloween less about the candy and more about other fall or Halloween traditions. "There are other ways to celebrate this time of the year. Whether it's carving pumpkins or apple picking, make Halloween a family affair where time is spent focusing on these traditions and candy is just a small part of it," Melendi says.