Nonprofit group raises awareness of first responder issues
By Kevin Beese Staff Reporter —

October 23, 2018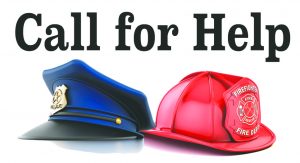 Second in a series looking at the trauma first responders deal with and the impact it has on them and their families.
From a very young age, Ryan Elwood was known as the boy with the smile.
That smile would light up a room when he walked in it. He would flash that smile to get himself out of jams and to keep people from staying mad at him. He was witty and funny to the point that family members say he could probably have done standup comedy, if not drawn into fire service.
"He was the greatest guy. He was funny, caring and always there with a joke," his aunt Clare Keating said.
As a firefighter, he rescued a 90-year-old woman from a burning building. He received a Medal of Valor and Unit Citation from Hometown officials for his bravery.
However, beyond the happiness and heroics, there were also horrors. He revived a teen who attempted suicide only to lose him at the hospital. He saw things on the job as a part-time firefighter in both Hometown and the North Palos Fire Protection District that turned into visions that wouldn't go away.
On Sept. 8, 2015, Ryan Elwood took his own life.
"It came as a complete shock to his family and his fire department family," Keating said. "We never understood about this epidemic. We kept searching and we found the problem is so widespread that we needed to help the brotherhood and sisterhood who are first responders."
Finding out that firefighters and police officers are three times more likely to kill themselves than to be killed in the line of duty, members of the Elwood family created a nonprofit group to raise awareness of the trauma first responders experience.
RE;ACT, which stands for Ryan Elwood Awareness Counseling and Training (the semi-colon is a reference to mental health), raises money for organizations raising awareness about the dangers that first responders face mentally from what they see while on the job. It has given money to the Illinois Firefighter Peer Support Team, which connects firefighters with a peer to talk about what they have seen and what they are experiencing.
RE;ACT has gotten the Illinois Fire Service Institute to include an hour of training on what to expect on the job as part of any course more than 24 hours.
The group is working with state Rep. Fran Hurley (D-Chicago) and Sen. Bill Cunningham (D-Chicago) on statewide initiatives to provide mental health training and support for first responders.
The initiatives RE;ACT and the lawmakers are seeking are:
Mental health training at part of every fire academy in the state.
Mandated timely responses when there is a potentially traumatic event for first responders.
Mandatory mental health evaluations with first responders' annual physicals.
Preventing confidential information on treatment from being used as barriers to first responders' promotion or pay increases.
The ability to diagnose post-traumatic stress disorder as an accumulative effect of traumas experienced by first responders.
Katie Elwood, another of Ryan Elwood's aunts who is on the RE;ACT team, said she has seen a change  in attitudes in just the few years since the support organization was founded.
"From the start of RE;ACT to where we are now it has become acceptable to say to people, 'It's OK to not be OK," she said. "We have come a long way. Before, these things were not even mentioned. Now, the conversation is starting."
Katie Elwood said training of first responders has to provide them with some basic level of awareness of what is going to happen on the job so that they are not devastated right out of the box.
"You don't want it to be their first week on the job and they are blown away by something," she said. "They have to have the expectation that something is going to happen.,"
Ryan Elwood's father, Tom, said he, like everyone else, thought tough calls were just part of the job, that "they came with the territory."
He said there were a few occasions when his son would start talking about a tough incident, but the conversation topic always would quickly turn to something else.
"If we knew, we might have been able to get him professional help, someone who could explain to him 'Why am I feeling what I feel?'" Tom Elwood said.
The senior Elwood said that he is encouraged that RE;ACT has gotten other firefighters to start the conversation among themselves about stress.
He said the calls his son went on really affected him, but that Ryan rarely talked about them, probably looking to isolate family members from his experiences.
"He did such a good job of hiding it," Tom Elwood said of his son's issues. "He tried to deal with it on his own. No one else ever knew."
Tom Elwood said working at two different firehouses may have been one of the stressful things that contributed to his son's decision to take his own life.
"He would go from one job to another without a lot of sleep," Tom Elwood said.
Katie Elwood said sometimes first responders simply don't know how to react to a situation.
"Even the night when Ryan passed away, the firefighters in the station looked at each other for 15 minutes. Someone asked if anybody needed help. Then they went on with their business," she said.
Katie Elwood said she works with a lot of police officers and that they have a stigma with employee assistance programs. She said even through EAP personnel don't write things down, there is the fear that the counselor is going to say something to police brass.
"If the officers say they have a mental problem, they are afraid of being knocked out of their job or not promoted," she said. "They do not trust the EAP. How do we get them to feel secure enough to share things?"
Katie Elwood said RE;ACT is working on making presentations to the families of first responders, for them to see the warning signs.
"First responders just don't get to PTSD. It starts with depression, remembering the incident," she said. "We hope with family members knowing the signs, they can seek help."
Clare Keating said it is harder to get word to families than the first responders themselves.
"The first responders you can make go to training. To get them to share everything with their families, that's something that can't be done," Keating said. "We can't make the families get training."
For information about RE;ACT, go to www.react4ryan.com.
Call for Help Part 1: Stress can overwhelm Illinois first responders