Tips for keeping weight off during summer vacations
Advocate Health News —

June 15, 2018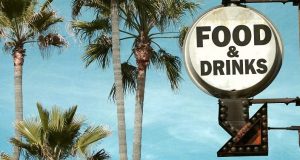 How many times have you worked hard to shed pounds, only to gain them back by overindulging with all-day buffets or poolside cocktails?
Instead of coming back home feeling heavy, bloated and lethargic, follow these five simple tips to stay on track during your next trip.
Say no to airport snacks
When it comes to food choices, your vacation begins before you even leave home. With the hassle of getting to the airport on time, many people end up skipping meals at home in exchange for a quick bite once they arrive. Rather than starting your trip off on fast food or an overpriced airport option, try packing some snacks or a meal from home.
Insider tip: TSA has no restrictions on bringing solid food into the terminals, so last night's leftovers or a meal picked up from another restaurant are just as acceptable as protein bars and trail mix. But beware, "liquid" food like peanut butter is still restricted to less than 3.4 oz/100 ml.
Get those groceries
More and more hotel and rental options have kitchenettes or full kitchens, and dietitian Amy Strutzel of Advocate Condell Medical Center in Libertyville, Ill., says grabbing essentials, such as fruit, granola bars and sandwich supplies is an easy way to save money, control portion size and calories. Stocking up on protein-rich snacks like nuts and cheese to bring to the beach or daily excursions will also keep hunger cravings at bay.
Insider tip: Take a trip to the village farmer's market for the freshest produce and a true taste of local culture! Use your leftovers for the flight home.
Beware of the buffet
It is easy to blow an entire day's allotment of calories in a single meal at a buffet, leaving you feeling sluggish and uncomfortable. Whenever possible, try to avoid these popular vacation traps.
Insider tip: If you do end up at the buffet, Strutzel suggests using the Plate Method. "Try to make half of your plate veggies, a quarter of it some type of leaner protein, and the other quarter a starch or grain," Strutzel says. "If you're still hungry, choose more veggies or some fruit. Another healthy strategy is to look for customizable options such as an omelet or stir-fry station where you can choose ingredients and portion size. These options will likely be the freshest.
Keep it balanced
You're on vacation, so by no means are you expected to count calories. Keep in mind, however, that splurging is best done in moderation. If you know dinner will be heavy, keep lunch light. Balancing out the day will not only keep your weight gain to a minimum, but it will keep you comfortable and energetic.
Insider tip: Strutzel points out that when dining in a sit-down restaurant you may be able to customize how your meal is prepared. "Always talk to your server and see if foods can be made to order," Strutzel explains. "Grilling instead of frying, keeping sauces on the side, or preparing foods without oil or butter are great ways to find healthy choices that still appeal to you."
Make time for movement
While relaxation is important, don't forget to get out and explore, especially if you're not working out on vacation. Make simple choices; walk instead of driving, or take the stairs whenever possible. Little activities add up in a positive way.
Insider tip: Make it a game. Assign exercises for unhealthy activities like heavy meals or alcoholic drinks, such as 10 pushups or 50 squats before, during or after each meal. Get family and friends in on it, and keep each other accountable.
The most important thing this vacation season is to relax and enjoy yourself. If you come home a few pounds heavier try not to beat yourself up. Keep these tricks in mind, and you'll be in great shape to hop right back on track once you get home.
—- Tips for keeping weight off during summer vacations —-